Community - COVID-19 Questions and Answers
COVID-19 HOTLINE: Peninsula Regional Medical Center (PRMC) and the Wicomico County Health Department has opened a COVID-19 Information and Triage Line. The call center is based at PRMC and collaboratively staff by registered nurses and other clinicians from both Peninsula Regional and the Health Department. The number is 410-912-6889.
MARYLAND Residents: If you have questions, please call 211; Wicomico County residents and physicians can call the Wicomico County Health Department call center at (410) 341-4600 Monday through Friday from 8:00 a.m to 5:00 p.m. Online, visit health.maryland.gov/coronavirus and www.cdc.gov for up-to-date information and resources, including the latest information on COVID-19.
SPECIAL MARYLAND HEALTH BENEFIT EXCHANGE EXTENSION: Uninsured Marylanders may enroll through the state's health insurance marketplace, MarylandHealthConnection.gov. The Maryland Health Benefit Exchange today announced an extension until June 15 of the special enrollment period that began in mid-March to help uninsured Marylanders during the State of Emergency for Coronavirus (COVID-19) declared by Gov. Larry Hogan. Uninsured Marylanders may enroll through the state's health insurance marketplace, MarylandHealthConnection.gov.
DELAWARE Residents: Delawareans with questions about COVID-19 or their exposure risk can call the Division of Public Health's Coronavirus Call Center at 1-866-408-1899, or 711 for individuals who are hearing impaired, from 8:30 a.m. to 8 p.m. Monday through Friday, and 10 a.m. to 4 p.m. Saturday and Sunday, or email DPHCall@delaware.gov. The DPH Call Center does not have test results. Individuals awaiting test results should wait to hear back from their medical provider. For the latest on Delaware's response, go to de.gov/coronavirus.
Frequently Asked Questions:
I want to donate supplies/masks/food/other items - what do I do?
 For all donations, please visit our donations page. Thank you for your kindness.
How can I thank staff/share appreciation messages or prayers?
Please visit our Healthcare Heroes site. 
What can I do to protect myself and others?
Take everyday preventive steps that are always recommended to slow the spread of respiratory illnesses like colds and flu:
Wash your hands often with soap and warm water for at least 20 seconds
Use an alcohol-based hand sanitizer with at least 60 percent alcohol if soap and water are not available
Cover your coughs and sneezes with a tissue, your sleeve or your elbow
Avoid touching your eyes, nose and mouth
Clean and disinfect frequently touched objects and surfaces using standard cleaning practices
Avoid close contact with people who are sick
If you are sick, stay home, except when seeking medical care
I think I might have been exposed to coronavirus. What should I do?
First, stay home and call your healthcare provider, who might be able to determine whether you're really exhibiting symptoms and/or are at risk. If you can manage the symptoms, you don't need to come to the hospital or get a test. You should stay home and isolate yourself. You can use your primary care doctor; urgent care centers are also able to help and many are able to test (Your Doc's In). You can also call our COVID-19 triage line, 410-912-6889, for more info. If your symptoms are severe, then coming to the Emergency Department is appropriate.
What are the symptoms of COVID-19?
Fever
Coughing
Shortness of breath
In more severe cases, pneumonia (infection in the lungs)
Not everyone with these symptoms has COVID-19. Flu is currently widespread in our area and may have some similar symptoms.
How is COVID-19 treated?
Treatment is mainly supportive care with:
Fluids
Medication to lower fever
Oxygen if needed
There are no vaccines available for COVID-19 at this time to help with prevention
I want to get tested - what should I do?
If you have worrisome symptoms and think you have been exposed, talk to your family doctor first. You may be able to self-quarantine and use over-the-counter medications. If you are severely ill, then please do seek treatment quickly.
What's the difference between social distancing, quarantine and isolation?
Social distancing is what we all should be practicing. Quarantine is for people who were exposed or may have the virus and should not leave their residence/yard. Isolation separates known sick people from all others to the greatest extent possible.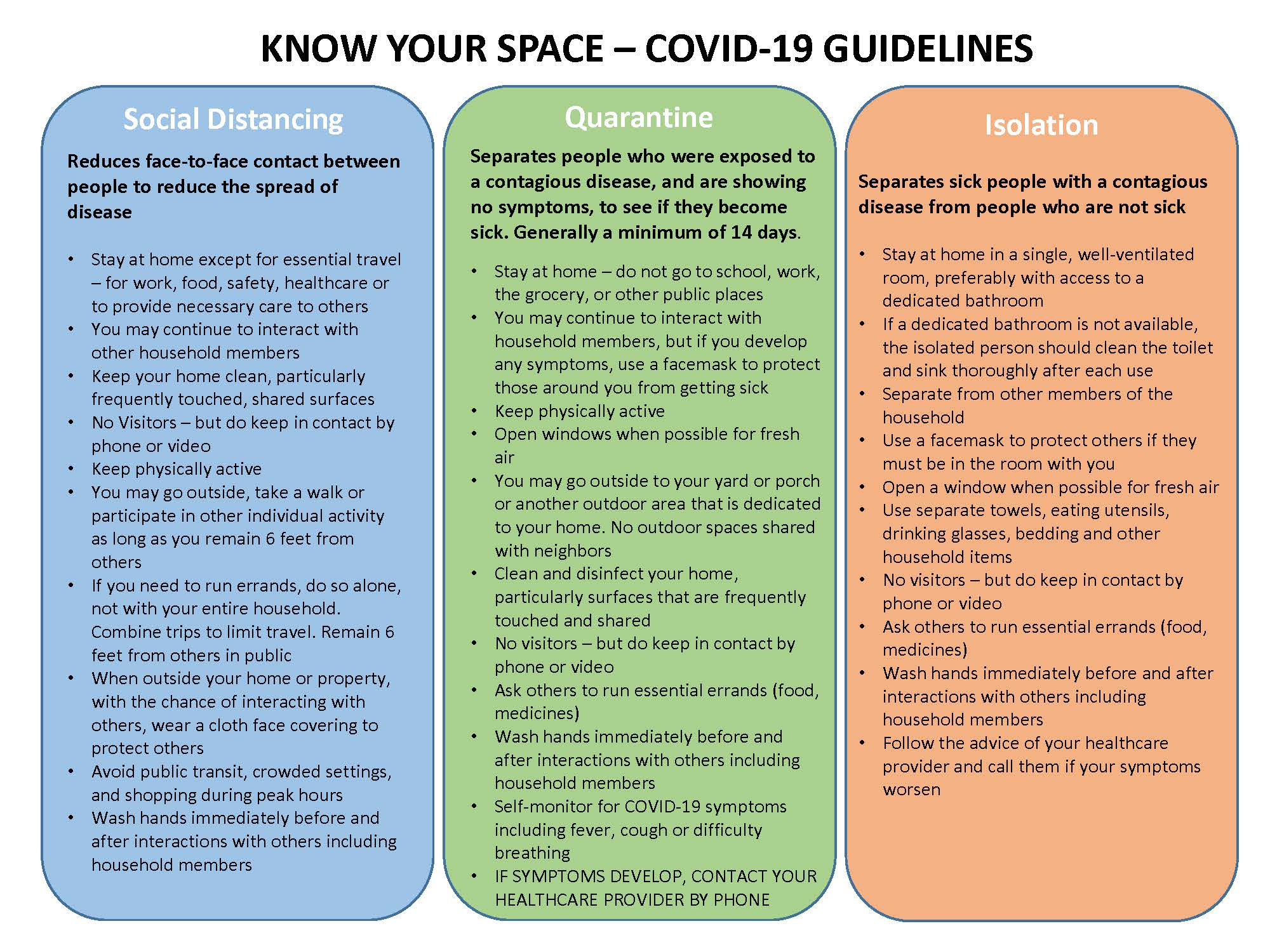 How can I find out more about what's happening with COVID-19?
For the most up-to-date information, please visit trusted sources of information about the coronavirus:
Centers for Disease Control and Prevention
The PRMC Facebook page is frequently updated.