What You Need to Know from Peninsula Regional Health System
We are no longer able to allow visitors. Click for more.
All patients, including outpatients, should plan to bring and wear a mask when they come to any of Peninsula Regional Health System's locations, as should their support person if they are permitted one (Labor & Delivery, surgical cases and special needs patients).

We are beginning to reopen some previously closed services.

Click for more info. We also have telemedicine options in place for many appointments.
Patients coming to the Emergency Department will be triaged outside the building and those with COVID-19 symptoms will be further evaluated in a separate triage tent.

All patients will be verbally screened for COVID-19 risk.

All of our Health System's public events, classes and support groups are canceled.

In-person requests for medical records cannot be processed at this time. Visit mypencare.org for online medical record access and a printable medical release form.
If you have goods/food/masks to donate - click here for more info.
To thank staff, click here.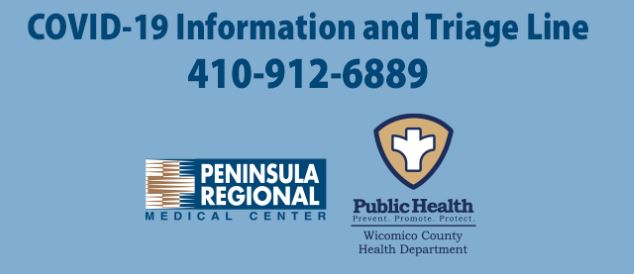 If you are concerned you have been exposed:
STAY HOME.
If you have flulike symptoms (fever, cough, runny nose), call your primary care provider who can determine whether you need to be tested.
If you have SEVERE respiratory symptoms, seek care immediately.
For info, call our information and triage line: 410-912-6889.